Privacy policy and personal data protection (GDPR)

Foreword

In accordance with the European General Data Protection Regulation 2016/679 (hereinafter "the GDPR"), Akilys duly informs its website users of the personal data collected and processed on visits to its website and in the course of its legal and fiscal consulting and support services.

This data protection policy aims to inform website users and customers of the commitments made and measures taken by Akilys to ensure the protection of their personal data.

This policy is likely to evolve according to the legal and regulatory environment, as well as the positions adopted by the French data protection authority (Commission Informatique et Libertés – CNIL).

The data collected is primarily intended for Akilys lawyers, paralegals, and administrative staff.

Our subcontractors may also receive certain personal data: this concerns our chartered accountant and our technical service providers (publisher of our business software, backup server hosting provider, email server provider, data management provider for our information system), insofar that the execution of their responsibilities requires them to access, transfer, store, copy or save certain of your personal data.

This information may also be forwarded to third parties designated or approved by yourselves and subject to professional privilege required to honour the missions entrusted to Akilys, in particular statutory auditors, chartered accountants, financial advisers, etc.
1. Personal data collection:

Data may be collected when you:

– Browse the website,

– Submit a question via the contact form,

– Submit an application for employment or internship,

– Subscribe to a newsletter,

and in general when you provide us with information.
2. Use of personal data:

The data collected on the website are processed for the purposes described below:

– Deliver the services or information that you have requested,

– Respond to your questions and requests,

– Process applications submitted,

– Ensure the operation and security of the website, improve its operation and adapt it to your requirements,

– Make anonymised statistical calculations.

The aforementioned data are stored for a period that varies according to the purpose(s) for which they are collected and processed: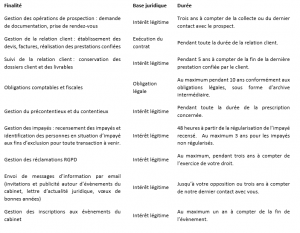 3. Cookies on the website:

Cookies are identifying text files placed on the hard drive of your computer via your web browser. They collect information about your visit such as your browsing path or preferred language, to improve your browsing experience as well as the content and functions of the website.

You may oppose the use of cookies and prevent their placement via your web browser settings. However, your user experience may be impaired depending on the cookies concerned.

The Akilys Avocats website features audience measurement cookies.

These audience measurement cookies are used to quantify the number of unique visits, the number of pages viewed, your browsing activity on the website and your return frequency.
To this end, Akilys Avocats uses Google Analytics.

The period of consent given in this case may not exceed 13 months.
4. User rights

The user has the right of access, rectification, modification, limitation, and destruction of their personal data.

They are also entitled to oppose the processing of their personal data for legitimate reasons, and to oppose the use of their data for marketing and commercial purposes.

The user is also entitled to define general and specific instructions defining how they wish these rights to be enforced after their death.

In all events, the user has the right to submit a claim to CNIL.

To exercise their rights, the user must send a letter to the Akilys Avocats Data Protection Officer, along with a copy of ID featuring their signature, to the following postal address: Akilys – 288 rue Duguesclin – CS63454 – 69448 Lyon cedex 03 France, or to the following e-mail address:
contact@akilys-avocats.com